H. GOODWIN, ALBERT STREET FOUNDRY, WALSALL
A general foundry which manufactured malleable iron key blanks. They sold their blanks to the Wednesfield key makers via Thomas Squire of Wednesfield, who stocked a large range of cast keys and blanks. By the 1950s, as the demand for casting declined, Squire's stopped stocking and Goodwin's only made keys to large orders for specific items.
W. J. GOODWIN LTD, WOLVERHAMPTON ROAD, WALSALL
Manufacturers of Old English type padlocks. There were two partners, Mr Taylor and Mr Bradbury, who bought the company from Goodwin before the war and who then sold it to Richard Morton in the late 1960s.

In 1970 it was owned by Richard Morton. There was an increased range of products, including a patio window lock, and new offices were opened off Bridgeman Street, Walsall.
In 1985 the business was sold to Yale, who wanted the manufacturing rights of the patio window lock and other items of builders hardware that they made for the plastic door and window market. They retained the Wolverhampton Road Works.
In 1983 Richard Morton purchased Thos Morgan and Sons (q.v.), Regent Street, Willenhall, from Jack Morgan and started to make the padlocks that Morgan had always made. He fell out with Jack Morgan and moved back to Wolverhampton Road
Works, purchased the original padlock making part of W. J. Goodwin back from Yale and continued to manufacture as T Morgan and Son Ltd.
In 1987 W.J.Goodwin are listed as being at Progress Works, Burleigh Street, Walsall.
[Note. Details are entered below of four, apparently separate firms of safe makers named Griffiths, who perhaps might also have made locks. Nothing more is known about them presently, except as shown on the safe plates, but research is in hand to provide further information when practical. If in the meantime anyone has any particulars about the firms which would assist, that would be greatly appreciated]
C. H. GRIFFITHS & SONS, 43 CANNON STREET, LONDON, E.C.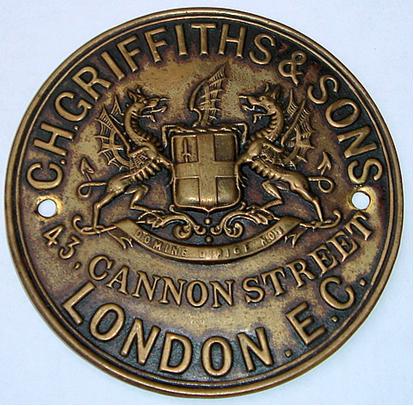 F. GRIFFITHS & CO, WOLVERHAMPTON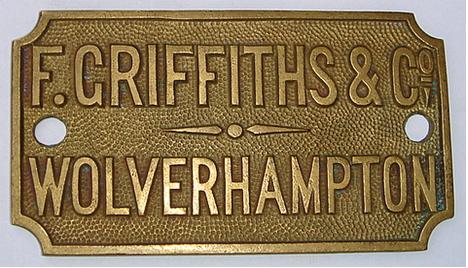 G. GRIFFITHS, SMETHWICK, BIRMINGHAM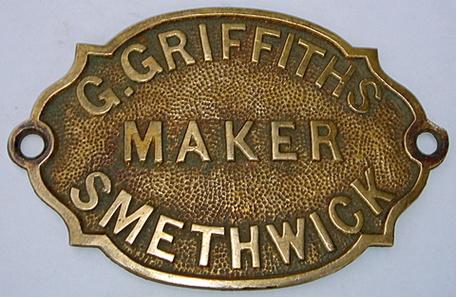 S. GRIFFITHS & SONS, HEATH TOWN, WOLVERHAMPTON.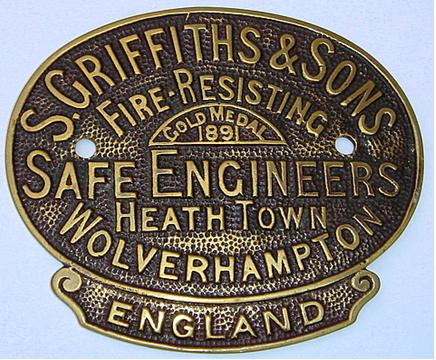 GUARDIAN LOCK & ENGINEERING CO LTD, IMPERIAL WORKS, WEDNESFIELD ROAD, WILLENHALL
Manufacturers of mortice locks. Founded in 1982 by Cyril Page, Brian Crutchley and Fred Sherratt, all former employees of Erebus, in a small factory in Croft Yard Willenhall. They immediately encountered problems from some of the larger lock makers, which saw them consolidate the "Imperial" brand name for their products. In 1989, as orders expanded, they moved into a factory on the Wednesfield Road, which was formerly the works of Keats (q.v.).
Dave Bate replaced Fred Sherratt as production director in c1990.
In 1998 they built a 7500 sq. ft extension ,which included new offices, this being part of a large investment programme that included state of the art production machinery. They expanded their export markets that now make a measurable contribution towards turnover and profit.
JOHN GUEST AND SONS, WOLVERHAMPTON ROAD, WALSALL
Casters who supplied malleable iron cast keys to the trade from their foundry in Walsall.
In 1921 they had a warehouse in Graisley Lane, Wednesfield and, by 1936, had built a new warehouse in Victoria Road, Wednesfield, from where they supplied the Wednesfield key makers.
The firm was run by the Guest family until they sold out in May 1973 to Bickley Foundry, by which time the demand for malleable iron cast keys had virtually died. The premises were demolished in 1999 after being vacant for many years.
C B GURMIN AND CO LTD, PIKEHELVE STREET, GOLDS HILL, WEST BROMWICH
Brian Gurmin was a welding engineer by profession; he was also the brother in law of Bill Williams, the owner of Albert Marston Ltd (q.v.), lockmakers of Wolverhampton. After the Second World war Marston's were experiencing problems in getting satisfactory malleable cast keys to suit their 5 lever Wellington Night Latch, which was being used extensively by the London councils in rebuilding houses in the post war period.
Chubb had been experimenting with fabricating keys by welding the bit and bow to a mild steel shank, but had found it very time consuming and expensive to fettle them competitively. Bill William's approached his brother in law to carry out some pioneering work with his knowledge of welding to produce a welded steel key. The first samples he supplied to Marston were acceptable and encouraged Brian Gurmin set up his own company to make welded steel keys and blanks.
Josiah Parkes and Sons Ltd took out a patent on the principle of fabricating mild steel keys in January 1949. Parkes challenged Marston's on the fact that they were using fabricated steel keys. They were able to reply that there was no case, as they were able to prove they had been using the principle since before the patent was taken out.
As his key making business expanded, so Brian Gurmin started to supply other lock makers, e.g.Yale, and he also started to produce steel blanks for the replacement trade. These were sold to the Willen Key Company, who offered them for sale in the mid 1950s. However Gurmin's were unable to meet the demands required by Marston's, who looked round to see who else was making welded steel keys and blanks. In 1955 they turned to Arthur Hough, who had started to make welded steel keys in 1953, starting a relationship that continues into 1999. Gurmin experienced many production problems, and ceased production of keys in the late 1950s, selling their welding machine in July 1960 to Arthur Hough and Sons.
(Details from Bill Williams 12/8/99)
---