THOMAS POOLE AND SONS, EZEKIEL LANE, SHORT HEATH, WILLENHALL
WILLIAM POOLE, COPPICE LANE, WILLENHALL
Originally the business was started by Levi Poole, a master keysmith, in 1860 in Swan Lane (Ezekiel Lane) and then later run by his two sons, Thomas (b 1867) and William (b 1866). At some point the brothers split up and started their own businesses under their own names.

William Poole had a key works in a large wooden building behind his home in Coppice Lane, near its junction with Mill Lane.
William died on the 23 May 1930 while travelling on a bus or tram between Walsall and Willenhall, while taking a parcel of keys to a customer. The business was left to his wife and later to her sister. It was eventually sold to A & E Squire in the 1940s, who used the premises as a small tool room.
Thomas Poole and Sons was later run by William and Howard, the sons of Thomas, until they retired and sold the business to Keys of Steel Ltd (q.v.) in 1979.
They specialised in the supply of cast iron keys and blanks for padlocks and cabinet locks.
(Ref. W Pace) (Street Names of Willenhall)
THE POWER LOCK CO, DEANS ROAD, WOLVERHAMPTON
Specialist in pad, cabinet, brass rim and mortice locks. In 1953/1987 were in Deans Road. Partner's Melvin Pitt and Mike Watkins (died early 1996). Later moved to new premises at Purbrook Road, East Park Industrial Estate, Wolverhampton. Taken over by Paveford Ltd (owner Mr Vaughan), a company on the same industrial estate, on 1st May 1997.
In August 2001 the company was being offered round the trade for sale.
CYRUS PRICE AND CO LTD, BRITANNIA WORKS, WEDNESFIELD ROAD, WOLVERHAMPTON.

Cyrus Price

The firm was established in 1840, by Cyrus Price, as patent lock and fire resistant safe manufacturers.

The company was written up in the industrial review "Wolverhampton and South Staffordshire Illustrated" in 1899. The information and quotations below are taken from this publication.

The heading to this article underlines the word "Cyrus" in the company's name, a device which the company seems to have favoured to distinguish itself from George Price (who similarly underlined the "George" in their name).

The heading also refers to the company also being at London, Liverpool and Dublin but does not specify the nature of this representation.
"As early as the International Exhibition held in London in 1862, Messrs Cyrus Price and Co., first placed their manufactures in open competition with the world's leading makers, where the excellent qualities of their Holdfast and fire-resisting safes and patent locks gained the prize medal awarded for new and special improvements. In 1869 this success was repeated at Wolverhampton, and was followed by an award of the only prize medal at Cardiff in 1888, and a gold medal for second order of merit at Melbourne, 1888-89".
Cyrus Price died in 1895 and the business became a limited company with Walter Russell Baker as the Managing Director and W. Vaughan as the other director. Both men had been with the company for more than 25 years.

The review then goes on to describe the works: " The premises occupied by the firm, known as the Britannia Safe and Lock Works, are situated on the Wednesfield Road, within convenient access of the Great Western, Midland, and London and North-Western Railways, where a considerable area of ground is covered by extensive ranges of substantial buildings of varying elevation, in which manufacturing operations are carried out.Passing through the offices we notice a handsome show case containing some splendidly finished samples of safe locks and movements, the identical exhibit for which the firm gained the award, previously mentioned, in 1862.


Walter Russell Baker
In the rear are spacious smiths' forge, safe-making shop, locksmiths' and paint shops, with large store for the steel and iron used in construction."
Then some of the company's products get a mention: "In their latest type of "Conqueror" and "Eclipse" safes, we were enabled to realise the high stage of perfection attained by the firm in their most recent improvements, in which are embodied all details of construction best calculated to render them impregnable against' burglarious attacks. We were also shown their Fire- Resisting 212 degree book safes, with patent solid hardened steel and drill-proof doors, strong rooms, doors, and frames, and smaller receptacles possessing equally efficient qualities.
| | |
| --- | --- |
| | This large transfer is in the Lock Museum. Note that, under the large lettering of "Cyrus Price and Co", smaller lettering reads: "Proprietors: Price Industrial Securities Ltd." Presumably this is the name of the limited company formed in 1895. Cyrus Price & Co then became a trade name and seems always to have been used. |
| | |
| --- | --- |
| Cyrus Price safe plate in the Trevor Dowson collection. | |
"In the lock department a noteworthy speciality is the patent prize medal unpickable locks and street door latches, the invention of the late Mr. Cyrus Price. Commenting on this improvement we may quote the following extract from the Birmingham Daily Gazette in dealing with the subject:- "The security of the new lock may technically be said to consist of a double lever 'reflection' bolt, standing against either side of the keyhole, which bolt, upon the introduction of a false key or pick, not only prevents the lifting of the levers (which is required before the main bolt can be drawn back) by the action of a bolt-pin which slides into one side of the levers, but with the same action it effectually bolts the bolt itself. The patentee claims for his useful invention that the principle renders it almost impossible for the lock to get out of order with ordinary wear and usage."
"Other locks manufactured by the firm comprise the "Champion" detector locks and night latches, cabinet, rim, and mortice locks and bank locks, most of which are made in sets with a "master key" to pass the whole.
"Before leaving this department our attention was invited to the firm's First Class Quadruple Extra Strong Holdfast double fire-resisting, drill, wedge and crowbar-resisting safe, with massive doors 1 in. thick, intersected with hardened drill-proof steel, hung on massive hinges, to shoot large bolts all round, large dovetails in the doors, cut from the solid to prevent wedging, for the use of bankers, pawnbrokers, and others requiring to store bullion, plate and other valuables. A glance of [sic] this ponderous stronghold would, we should imagine, deter the boldest burglar from his nefarious design even when equipped with the best tools employed by exponents of the "cracksman's" handicraft".
The review then summaries some of the many letters the company had received about instances where their safes had resisted burglars, fires and other attacks, including "the great fire at Beattie's Drapery Stores, Wolverhampton" in 1897. And an "almost unique experience may be told of a safe supplied by this firm to Mr. William Jones, of Sand Quay, Belfast. In this case the attack was made upon the safe in question by three burglars, who, being baffled in their attempt on the "Holdfast" coolly proceeded to convey it to a barge for transmission to a place where their operations could be continued with greater security. During this performance the gang, owing to some alarm, consigned the safe to the water, from which it was subsequently rescued, and despite the duration of the immersion the contents upon examination were found to be comparatively uninjured."
This advert, from an unknown source, refers to the company being almost a century old and so should date from the 1930s. It refers to "12 corner bent steel safes". Can anyone explain the "12 corner" reference?

By this time they are also advertising strong room doors, deed chests, and "sliding or hinged steel partition or party wall doors of all kinds", suggesting a widening of their range.

They also say that the safes are "fitted with Cyrus Price's own patent solid lever locks", suggesting that they made their own, unlike many safe makers who bought in the locking mechanism.
Details of the firms history after this review are not known at present but eventually the business was acquired by James Gibbons (qv) in the 1930s.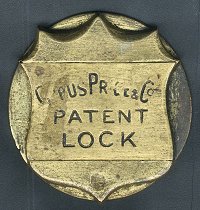 GEORGE PRICE, CLEVELAND SAFE AND LOCK WORKS, CLEVELAND STREET, WOLVERHAMPTON
W.H.PRITCHARD, NEACHELLS LANE, WEDNESFIELD, WOLVERHAMPTON
Manufacturers of a special two lever lock, specially made for fitting into a cabinet/chest/box they make. Had a factory in Wolverhampton. Were taken over by Richards and Ross Ltd on the 4th January 1989 and production moved to their Neachells Lane site. Richards and Ross Ltd is an engineering company that had been established in Wednesfield from the 1930s.
QUALITY LOCK COMPANY
Founded by Peter Cartwright and Frank Constable (both former employees of Erebus Ltd) in July 1971, in a garage in Frank Constable's garden in St Anne's Road. They made hand made rim, mortice and gate locks, and also specialised in repairing old locks. Their original equipment consisted of a single phase Black and Decker drill, their first order for 200 upright brass mortice locks were all hand filed and from the proceeds of this order they purchased a linishing machine.
After 18 months they moved into Rotunda works in Wood Street, which they purchased from James Banks, whose business was incorporated into Quality Lock, although they never made any of James Banks (q.v.) range of locks. In c1989 they moved premises, this time moving into the works formerly used by Thomas Worrall (q.v.) in Doctors Piece, although their entrance is in Leve Lane. Frank Constable retired in December 1990, leaving Peter Cartwright to continue to run the company employing 4 lockmakers.
They purchased from Erebus the manufacturing right of the old James Gibbons range of locks and keys and they also produce locks to pattern, brass ships locks, galley locks and furniture, galvanised gate locks, fire escape locks, cell locks and hospital locks.
---