ENOCH WEBSTER, CHAPEL GREEN WORKS, WILLENHALL

| | |
| --- | --- |
| | Manufacturers of mortice and rim locks. Established in the second half of the 1800s. In 1881 Enoch Webster, aged 41, lived at 18 Cannon Street and is listed as a lock manufacturer, employing 1 man and 4 boys. The inside of all the parts in their locks were marked with a logo: E.W.W. in a triangle |
WEISER (UK) LTD, NORTH WEST INDUSTRIAL ESTATE, PETERLEE, COUNTY DURHAM
The UK branch of a USA company who set up in Peterlee to manufacture their range of pin tumbler locks in the UK. They also had a branch in Sint-Niklaas, Belgium. Closed in the early 1990s when demand decreased and production was transferred to Belgium.
WEST ALLOY DIECASTINGS LTD, GARTH ROAD, MORDEN, SURREY
West Alloy Diecastings is a privately owned company founded in 1952. The company began as a trade shop, producing zinc diecastings, and fairly quickly moved into the design and manufacture of locks, enjoying considerable success with a main lock for caravans. Further versions developed and the success of the design can be measured by the fact that three of these assemblies are still in current production. By the 1960s West Alloy was also manufacturing hinges, drawer pulls, catches and folding table legs. When fuel economy became a major issue in the seventies, West Alloy responded by introducing a design of lock predominately manufactured in plastic. Retaining one or two zinc castings, the change to plastic reduced the weight by 60 to 70%. It was this change that opened the door to other market opportunities.
In the early eighties West Alloy identified a market opportunity and set about designing a purpose built lock for tractor cabs, based on locking round a stud rather than on the traditional slam type lock used by the caravan industry, the major market for the company's locks at that time. The resulting design was a much stronger interior lock, produced predominately from steel pressings - a considerable departure from the original core business of zinc diecasting. Introduced in 1984 the tractor cab lock was designed to operate with an existing diecast exterior and incorporated a diecast operating lever to enable the door to be opened from the inside. At the time it wasn't fully appreciated how flexible and successful this design would become and that it would lead to several new generations of products.
West Alloy currently produce a wide range of parts for construction equipment and tractor cabs, caravans, garage doors and office furniture. The majority of products are West Alloy's own design and are manufactured at the company's two factories at Morden and Sutton, Surrey. The company employs a work force of ninety and is equipped with all the necessary equipment for producing diecastings and plastic mouldings. Approximately 65% of the company's products are for the U.K. market, the balance being exported to Europe, Australia, South Africa, Japan and the U.S.A.
In 1998 Mr B Sugden was the Managing Director. The firm had 86 employees. Their turnover was Ł4 million.
WEST END LOCK CO, NEW ROAD, WILLENHALL
| | |
| --- | --- |
| | Makers of rim and dead locks, brass and iron padlocks, and gas meter locks. In existence in 1921 and 1974 but not 1914. Closed in 1970s. |
WESTON BODY HARDWARE LTD, 27 WALKER ROAD, REDDITCH
Manufacturers of die cast lock cylinder barrels, budget locks, compartment locks. Set up in the 1970s to manufacture the "Wilmot Breedon" range of locks and latches when Josiah Parkes decided they did not wish to continue to produce the range they had made for Wilmot Breeden for so many years.
S. WHITFIELD & SON (Later Frederick Whitfield & Co.), OXFORD STREET, BIRMINGHAM.
This entry contributed by and © R.A. Beck, 2007
The original owner, Samuel Whitfield is described in the 1851 Census as a "Brass Founder". It is known that he was then using Edwin Cotterill's Patent Climax Detector locks, a firm founded in 1840. So perhaps Samuel Whitfield also started sometime in the 1840's by casting the cases into which the Cotterill locks were assembled; definite information is presently uncertain.
The Whitfield family lived at Spring Street in Edgbaston, Birmingham, and Samuel in 1851 aged 41 employed 35 Men, 4 Women & 18 Boys in his business. The large Whitfield family there consisted of Hannah, his wife (age 41); Samuel B. Whitfield, Son (17); Mary B., Daughter (14); Frederic, Son (12); Herbert, Son (10); Anne, Daughter (8); James, Son (2); Emily, Daughter (1), and a live-in Servant, Maria Yates then age 19. This is particularly relevant as the Sons were later to play major roles in the Company.
That Samuel displayed his wares at the Great Crystal Palace Exhibition of 1851 is evidenced in the Official list of Exhibitors, describing the business as: "Whitfield, Samuel of Oxford Street, Birmingham - Manufacturer." It confirmed that Samuel Whitfield's fire-proof safes and cabinets are fitted with Cotterill Climax Detector locks.
Later, Whitfield was to stop using Cotterill's locks. Instead, certainly by 1867 he starting using Mappin's locks, patented on 20th January 1862; so the change would have occurred between these years. Here below is an extract from Samuel Whitfield & Sons' Catalogue, 1867 referring to the use of Mappin's patent: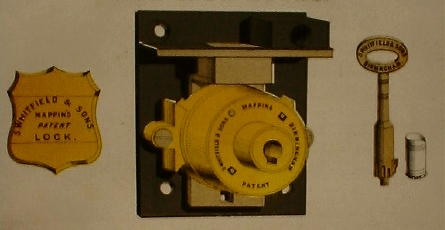 In 1867 the Company was still owned by Samuel Whitfield, but by 1876 the sons Samuel and Frederic had come into the firm and it was then known as Samuel Whitfield & Sons, of Viaduct Works, Oxford Street, Birmingham.
By the 1880s Samuel Whitfield had died and his son Frederic took control of the Company, then to be called F. Whitfield & Co. Amongst other things their range of detector locks went up to having 12 sliders like that below:

F. Whitfield & Co. 10 slider lock key No. B 35.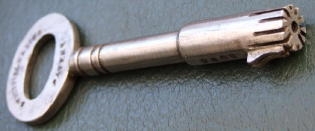 S. Whitfield & Sons 12 slider lock key No. 8046.
However Whitfield made some locks (not known how many, but those that exist are very rare) with 18 sliders - real top of the range jobs!
Later on the firm was known as Whitfield's Safe & Door Co., of Birmingham and continued the tradition of using Mappin's patent locks. However between the 1914/18 & 1939/45 Wars Whitfield used lever locks of the Milner type; for a time these were actually made by Bramah.
Bramah's business was acquired by J. T. Needs & Co in 1871, and in 1901 they in turn were bought by the Whitfield Safe & Lock Company. After the 1939/45 War Whitfield was taken over by Milner Lock & Safe Co. Ltd, and shortly after their name disappeared from view!
SAMUEL WILKES, EXCELSIOR WORKS, PARK ROAD, BLOXWICH
The Wilkes family started in business in Bloxwich as locksmiths and door furniture manufacturers in 1874. By 1954 the original company had built up cash reserves and, to enable these to be distributed to shareholders, the company was liquidated and the trading assets were transferred to a new company, Samuel Wilkes and Sons Ltd on the 1 June 1954.
At some time James Bailey and Co. Ltd were incorporated into the company and in 1977 they were trading as Samuel Wilkes and Sons Ltd Incorporating James Bailey and Co. Ltd, making locks, hinges and pressings for railway carriages, passenger and commercial vehicles.
The company traded in the manufacture of locks etc., acquiring Thomas Herbert and Co. (Willenhall) Ltd (q.v.) on the 14 November 1969; Hodges Locks and Pressings Ltd (q.v.) on the 15 November 1971; H.D. Jackson Co. Ltd. (who made office staplers and ball bearings) on the 5 November 1973; and J. G. Beddows Ltd (q.v.) on the 20 December 1976.
Except for J.G. Beddows, whose plant was moved into the Bloxwich site immediately they were acquired, the manufacturing facilities and services that were operated by Samuel Wilkes and Sons Ltd, Hodges Locks and Pressings Ltd, and H. D. Jackson Co. Ltd were combined under a new division known as Samuel Wilkes and Sons Ltd. (Manufacturing Division). They also created two new marketing divisions for sales, namely Samuel Wilkes and Sons Ltd (Engineering Division) and Samuel Wilkes and Sons Ltd (Luggage Fitting Division). The Luggage Division was to handle orders previously dealt with by Hodges Locks and Pressings Ltd., H. D. Jackson Ltd and the James Bailey Trunk Department of Samuel Wilkes and Sons Ltd. The Engineering Division was to handle orders relating to rail, motor vehicles, presswork, bearings, and general engineering products. The Managing Director at this time was J .D. Lisle, who had come from the Hodges Lock side of the business.
In 1979 receivers were appointed and entered into an agreement with a new company known as Samuel Wilkes (Engineering) Ltd for the hiving down of the trading assets except the freehold property. On the 1 February 1980 the receivers sold the issued share capital of Samuel Wilkes Engineering Ltd. The company still traded in 1997 from premises at Newfield Close, Walsall, in business as specialists designers and manufacturers of locks, hinges and general engineers. The cabinet locks side of the business (the former Hodges Lock work) was purchased by Liston Products Ltd.(q.v.), who continue to make the "Hodges" range of cabinet locks in 1996.
DAVID WILLIAMS AND SON, 68A TEMPLE STREET, WOLVERHAMPTON
Cabinet and padlock makers. In 1936 they were at 73b Raby Street, Wolverhampton.
In 1953 they were at Temple Street. Not in existence in 1970. Nothing else known.
---