2011
Sale of Gordon Harpers Collection
At the request of Gordon Harpers family, the collection was auctioned on Saturday 14th May at the Cresta Court hotel in Altrincham. Each item was photographed by the family and we have compiled these into a PDF file which may be downloaded and viewed in acrobat reader.
2010
The Lock Collectors Association recently attended the Institute of Certified Locksmiths (ICL) security exhibition in Nottingham on Saturday 13th March 2010. A good number of exhibitors were in attendance, including - Aldridge Ltd.; Advanced keys; Codelocks Ltd., Safeventures and Keyprint Ltd. Many thanks to Mick Friend and everyone at ICL for allowing us to attend!
Following the exhibition a meal was arranged at the Village Hotel in Nottingham.
2009
On 29th May 2009, we visited Blakeys lock premises at Brierfield, Lancashire where they kindly provided facilities for us to hold our AGM.
On 25-27 September 2009 we attended at the Master Locksmiths Association's Expo 09 in Telford. Our members attended and facilities were provided for us to sell antique locks, etc, and this received wide interest from the MLA attendees.
2008
A visit to Assa Abloy's Works in Willenhall was arranged for Tuesday 15th April. Many thanks are due to the firm for making this visit so enjoyable. A good number of old locks were available to see and were highlighted by "Aubin's trophy" being there. The visit around the works was also most interesting.
Tony Beck, Secretary.
Our Annual General meeting scheduled for Saturday 14th June 2008 at the Locksmiths House was postponed due to uncertainty the future of this venue. The meeting was rescheduled for the Master Locksmith Association's Exhibition due in Telford around the same time. But, circumstances provided insufficient support for the meeting to proceed; it was rescheduled for September.
7th European Lock Collectors meeting in London, 19th to 21st September. This was a very important meeting attended by visitors from Europe and America, and London was appointed this year to host the event (it was held in Rouen, France in 2007 and in 2009 is to be held in Parma, Italy).
This meeting usually attracts around 150+ visitors and the Royal National Hotel in Russell Square provided a base for our visit. It is the largest hotel in Central London and conveniently situated for Theatreland and West End shopping. Visits were arranged to the Victoria & Albert Museum, and the Science Museum (a short trip from the nearby tube station) to view Renaissance Locks and Ironwork, together with more "modern" locks. In addition many attendees visited famous London antique markets and of course our own "market" to buy, sell, and trade.
Annual General Meeting: this is now fixed to start at 9.30am after breakfast at the Hotel (Royal National) in London, and is expected to last no longer than one hour.
2007
Events from 2007 include;
This year's European Lock Collectors Association meeting is in Rouen, France and will be held on Friday to Sunday 14th/16th September. The format will follow that of the previous year's very successful meetings held in Nuremberg (2006); Graz (2005); etc. We shall look forward to hosting this event in London during September 2008.
The Master Locksmiths Association, Northern Region are holding an Exhibition at the Royal Armouries in Leeds and by their kind invitation our members may attend on Saturday 22nd September 2007. Tables will be available for those of us wishing to display antique locks for sale, or just exhibit to MLA members. An evening meal at a suitable hotel is to be arranged.
Members have indicated that they would be interested in a visit round some place of interest where old locks, etc may be seen. The Association Secretary will look into this with a view to selecting a suitable location and timing (it is expected this would have to be held during a week-day).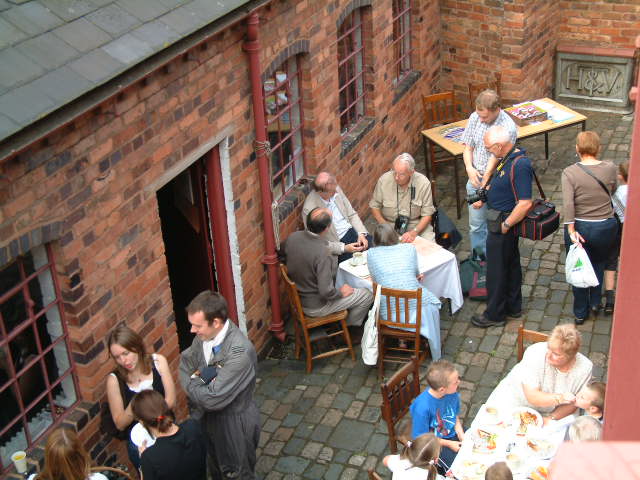 A few of our members enjoying time out for discussion and a snack at a recent meeting held in Willenhall's former Lock Museum.